Because of Prince
Music cannot, does not, create itself. Life is the stuff out of which music is created, and the human experience, with all of its pains and pleasures, joys and sorrows, are the ingredients. Prince Rogers Nelson was born to create music; in his own words he said, "I am music". Debate it if you want but don't bother trying to convince singer/songwriter Gail George it isn't so. The life and music of Prince has fueled her creative fire, but like so many it was his death that fanned the flame and brought her to a place of surrender, where she faced her fears and those things that have held her back in her life and work.
Gail George is a child of the 60's, who grew up in Northern California. "My best friend was my transistor radio and AM Top 40 my constant companion. I saw and felt musical heroes as protectors. My childhood was very tumultuous and violent at times. Music soothed the savage beast and when certain music was played in our house I was spared violence. I started to associate music with rescue and then music in general as my caretaker as I was left to fend for myself quite a bit as a very young child. It's not a stretch to say that music saved me and absolutely made me the person I am today."
Gail has always made her living through music. "Every job I've ever had in the last 30 years has been in the music industry. I just wanted to be around it." In addition to working on the production side for record companies, she worked as a session singer because in her mind it would allow her to work with artists but not have to carry a show herself. Because she was so shy and fearful, she thought her strength was in a supporting role rather than the spotlight, which was a double-edged sword because in truth she wanted it more than anything but constantly ran away from it, too.
"From 1983 to 1985, I was in a band called Tranz. We recorded and released a five song EP as well as a 7-inch single. We sent a demo tape to Prince in the fall of 1984. I can't tell you where we sent it, but I think it was to his management at the time. I am sure that package was never opened and thrown straightaway, but goodness we had high hopes! That band eventually morphed into Room With A View where another EP was released in 1988. And I became a session vocalist at that time, singing back up with various bands and artists, on stage and in the studio, through the mid-90's."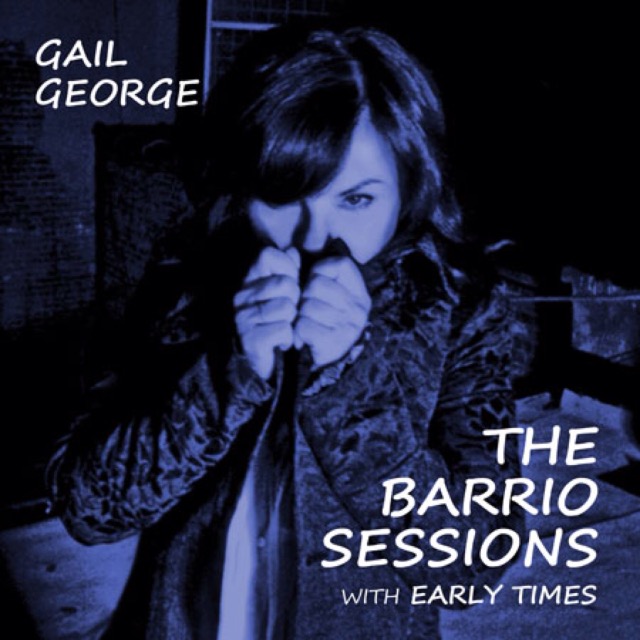 As a single mom, being a session vocalist allowed her to earn extra money as well as nourish her need to sing, but by 1996 it all fell away, and she didn't pick up performing again until the early 2000's where at the urging of others, she finally released her first solo record in 2003, Follow Your Bliss. It would be another 11 years before she mustered the motivation, and courage, to record again. 2014 saw the release of her second solo LP, The Barrio Sessions, which she recorded with an old friend. "In 2015, I also contributed a track to an Elvis Costello Tribute record called Beyond Belief that absolutely energized me. After years of running, I had settled down in the East Village in NYC where the need to write and record again consumed me. I really had something to say."
With renewed energy and inspiration, Gail started work on a new album, but then…January 2016, and following closely on the heels of Bowie's passing came Prince's untimely death in April. For Gail, Prince and David Bowie were two of her hero/protectors, which is why 2016 was a tumultuous, life-changing year. "They both left quickly and shockingly and like so many, I felt lopped off at the knees. My world upended." The creative energy Gail had felt in 2015 waned and in its place, an indescribable mourning and what felt like a cloud of grief that would never lift as the year dragged on.
"Both artists helped form me, in how I viewed the world, and in how I wanted to see myself as an artist. Not only were they fearless, dangerous and subversive, they were brilliant in their visions. They didn't just bend the rules, they broke them and then made new ones and just kept doing that over and over and over. For me, their loss was and is immeasurable. I cannot put a timeline on how long I will grieve them."
In late November Gail felt a magnetic pull to go to Paisley Park, where they had just announced you could take a VIP tour and sing in Studio B. She had never been to Paisley Park while Prince was living and yet it had been her dream to record there, someday. So, on a snowy night in December 2016 she found herself there. "This is where everything changed. Those handful of minutes in Studio B, I absolutely felt him, and I started to put into play his words of encouragement to others, to 'just do you.' And that sounds crazy, I know! I can't explain it. But I know I'm not the only one who feels this, so I find great comfort with other 'fams' who share similar stories, and it is why I am so drawn to this beautiful community he curated. He wanted us all to do the best we could…to at least try. So, I am. He's been with me ever since."
Gail returned to her NYC apartment, located in a 118-year-old East Village tenement building, with renewed determination to finish what she had started. As 2017 dawned, the soulful, introspective songs poured out of her almost effortlessly. One song, titled Because of U, pays tribute to Prince, the source of her inspiration and because of him she was able to finish her album, BLOOM, which was released in October of this year. Gail has been so moved by the stories of Prince's philanthropic endeavors that she is donating all proceeds for the song Because of U to the PRN Alumni Foundation, an organization comprised of former employees of Paisley Park and Prince, whose mission is to continue the generosity of their late boss by raising funds for underprivileged youth to grow in music, arts, and education, help alumni members in need, and support urban farming initiatives, all of which were close to Prince's heart (http://prnalumni.org/home/about-us/).
Just prior to another pilgrimage to Paisley Park for Celebration 2017, Gail was notified she was being laid off from her job of 18 years at a major record label, and even though she has picked up some part time work at a smaller label, it's been stressful. Even still, she is grateful. Life in her tenement building, in a neighborhood built on the backs of immigrants, "…has been one of profound awareness and self-discovery. I have learned what I was always capable of but could never see or believe in. Isolation has a way of lifting the veil. When you have no distractions, when you are beholden to no one, clarity finally reveals itself."
"2016 was so painful and 2017 hasn't eased up much, so I am going to continue to surround myself with as much love, beauty and positivity as possible. Be the light I want to see in the world. I am not sure what my next move is, but I am staying open to whatever presents itself. Could I one day call myself an artist for real? I would like to be brave enough to do that because it doesn't matter anymore whether anyone else believes it. Only that I do."
Gail's story is just one of so many who have been touched by Prince, and it's the reason People of Paisley Park exists – to tell their stories. Demaris Lewis, Prince's close friend, stood before 2,000 attendees of Celebration 2017 at Paisley Park and told them, "You are the encore." She was so right…Gail, and all of us who are inspired by him are the encore. It's our turn to carry on his legacy and his life of creating, giving, sharing, and world-changing love for one another.
Learn more about Gail, her music and her new album, BLOOM, by visiting https://gailgeorge.bandcamp.com/
Are U safe, are U happy, okay?
I still can see your eyes, your smile.
I am safe I am happy, okay, I now know what to do.
I found my way out and through, it's all brand new, because of U.
I feel stronger, I am wiser, I love deeper,
I see farther, I stand taller, I shine brighter,
I am better, better, better because of U…
Lyrics excerpted from Because of U by Gail George
Better Late Than Never Music c2017