Personal Exchange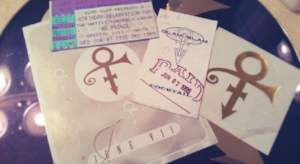 Prince entered Jonathan Caustrita's world at age 11 when his cousin first introduced him by way of the Controversy album. He never looked back. Thirty-five years later he is a successful commercial artist whose many credits include The Family Guy and The Land Before Time. He currently illustrates for TOPPS on Star Wars and Warcraft, in addition to a wide variety of freelance work.
Prince music has served as the soundtrack, not only for Jonathan's life, but his art. "I always have Prince music or a Prince movie on in the background while I'm working. It just keeps me going," he says. It's no wonder that Prince has been the subject of his art many times over the years, so he was in for a big surprise when on February 2, 2016 friends contacted him to say Prince had shared a pencil sketch of Jonathan's on his Instagram (or as Prince called it, Princetagram) captioned "LEGACY". The pencil sketch features Prince in the foreground and in the background are his many song titles and symbol. Jonathan is not exactly sure how Prince came in contact with the sketch but from what he was told Prince found his art on the internet. He also Tweeted other random art of Jonathan's so it was clear Prince was scoping him out.
Like the rest of us, Jonathan was trying to adjust to a world without Prince, when three weeks after his passing Prince's long-time DJ, Brother Jules, reached out to Jonathan. Brother Jules explained he'd recently been working on two CD's with Prince; a remix of the original "The Remix Experience" (up-tempo jams) and a brand new album "The Love Experience" (ballads). Prince's intention was that these were to be used as pre-concert music for the Piano & a Microphone Tour. Jonathan was told that Prince knew of his art, liked it, and wanted to have Jonathan create something for him in the future.
Jonathan was given complete artistic freedom to create cover art for the two CD's. Being a long-time admirer of Steve Parke and the Graffiti Bridge cover art, he used that for inspiration and believes that Prince would be pleased with what he has created: With Prince in the center, one side has an electric and up-tempo feel, and the other is whimsical with a fantasy feel. The two covers together make up the full illustration.
It is a labor of love for Brother Jules and all involved to see this music released, so it's fitting that proceeds from the sales will benefit several high school music programs that Prince supported.
It has been said by many that Prince had the ability to turn visions and dreams into reality, and for Jonathan Caustrita there is no doubt about that. "It was always my dream to create artwork for Prince", he says.
Even from the Afterworld, Prince is still making dreams come true.
In 2001 when Jonathan was living in LA and working as an illustrator for The Family Guy, Prince was scheduled to be on Jay Leno for the two nights preceding a Friday night concert on May 4th at the Hollywood Palladium for the HitNRun Tour. He had tickets for all three nights – three nights of nothing but Prince! Jonathan recounts, "On Tuesday night I was in line with a bunch of Prince fans to get tickets for Leno. I didn't sleep that whole night, I just went home in the morning and freshened up for work. On my way to work, I got a call that my wife was in labor a week early so I turned around to head to the hospital, but I missed my daughter's birth by one hour because of the traffic." On Wednesday and Thursday evenings, rather than being in the audience to see Prince he watched Leno from the hospital instead.
Friday came and being his wife and baby daughter were still in the hospital there was no way he was going to the concert, so he took a short break and drove to the Palladium since the venue was just 10 minutes' drive from the hospital. When he arrived there were lots of people waiting outside to get in, including several celebrities. He made his way to the front and knocked on the door. A fellow cracked it open. "Look, I said, I have tickets to the show, but I can't go because my daughter was just born, and I was hoping to get a t-shirt". The security guard was gracious enough to let him in and he purchased some CD's, singles, shirts and stuff.
In the background he could hear guitars playing. "I asked, is that Prince and the band? He said, 'Yes, do you want to see?' He took me over to a spot where we were up high looking down at the band, and Prince looks up at us and he stops. The security guard tells him I have tickets to the show but can't attend because my wife just had a baby.
Prince says in his soft voice, 'What did you have?'
A little girl, I said.
'Aww', he says, 'what did you name her?'
I told him her name was Savannah. 'Nice', he said, and then he strummed his guitar and sang the chorus of The Most Beautiful Girl in the World. I was just stunned and amazed."
He still has the Leno tickets, his concert tickets, and a signed copy of Rave Un2 the Joy Fantastic to remind him that this incredible experience really happened. "I didn't get to go to the Leno shows or the concert but that moment made up for it all. It was wonderful…such a personal exchange. I'll never, ever forget it."
Prince has a way of getting under one's skin and staying there, as fans old and new can attest. Jonathan Caustrita had the pure pleasure of seeing Prince live over 30 times in various venues across the US. You already know about the missed concert in LA from yesterday's post but counted amongst his Prince collection are unused tickets to the Purple Rain tour when it passed through Dallas, TX for three shows Dec 30, 1984 -Jan 1, 1985. Jonathan and his family had spent Christmas in El Paso and as bad luck would have it they were caught in a snowstorm trying to return to Dallas.
Many years (and shows) later Jonathan found himself at Glam Slam Miami on June 7, 1995 with front row seats at a show in honor of Prince's 37th birthday. As luck would have it Jonathan had another right-time-right-place moment: "I hung out with Eric Leeds at Glam Slam the night of the birthday show and the next day I got a great shot of Prince coming out of the club. Eric had told me exactly where to stand and at what time and sure enough, there he was so I snapped a photo." Eric, wearing a baseball cap, is standing directly behind a very dapper-looking Prince.